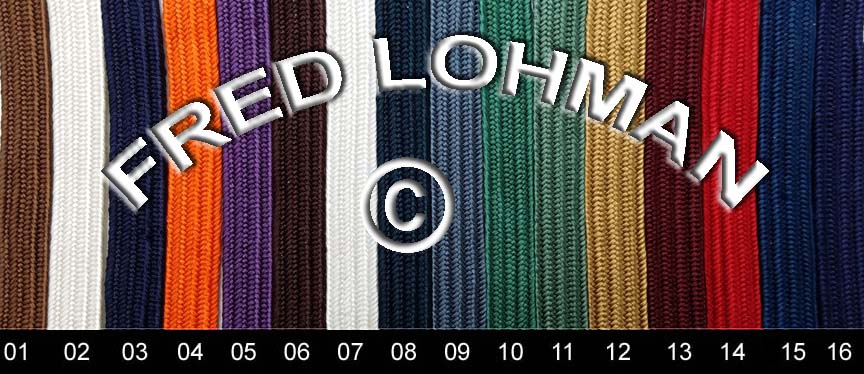 The following is a 'PAY ATTENTION TEST' WE recently discovered we have a roll of
genuine SUEDE LEATHER ITO, first come, first serve. still only $4 per foot !
~~~~~~~~~~~~~~~~~~~~~~~~~~~~~~~~~~~~~~
220cm ( 7 foot ) long SAGEO .. 2 colored not available in Katana length

Katana SAGEO (5.5 foot)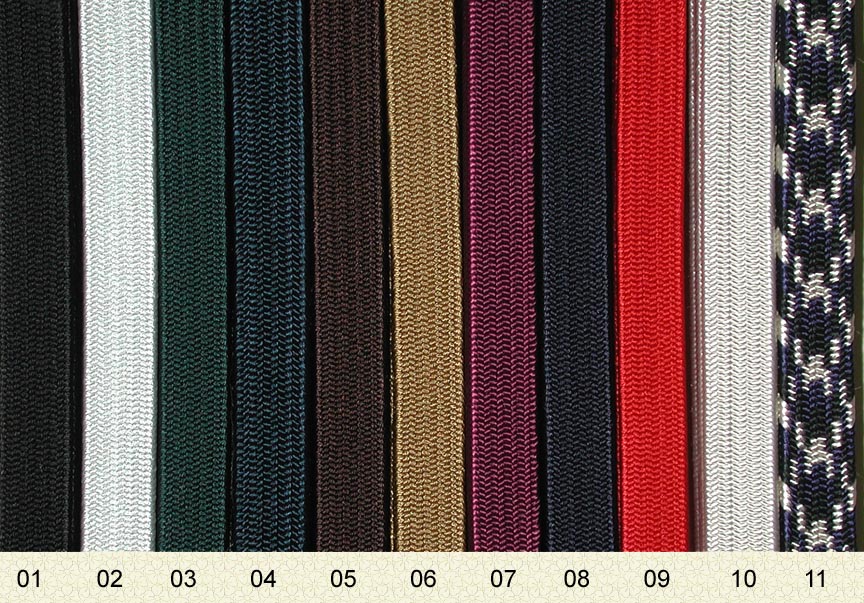 ~~~~~~~~~~~~~~~~~~~~~~~~
(Tanto) String Wrap

Battle Wrap

Battle wrap ( below ).. cord wrapped over the top of Menuki

Tsunami cord (below)

Standard wrap

Tachi Wrap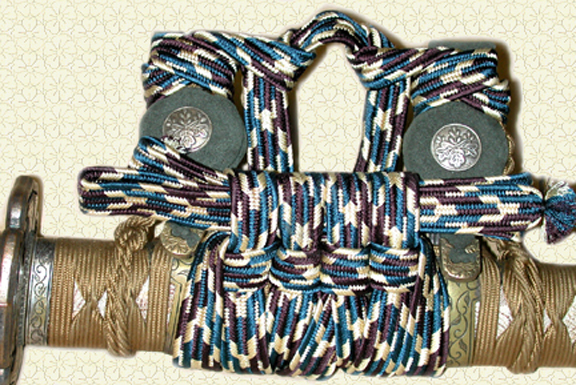 ~~~~~~~~~~~~~~~~~~~~~~
Click here to view an illustrated breakdown of a sword handle (Tsuka)
~~~~~~~~~~~~~~~~~~~~~~~~~
A small display of a variety of wrapping styles.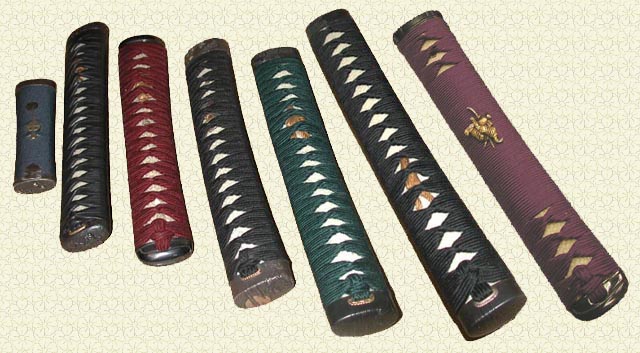 The above image (Fred Lohman original) is one of several that have been 'stolen' (Photo shopped) and can currently be found on other web sites. (They talk the talk but can't walk the walk.) Careful who you trust with your sword because anyone who steals images, .. well..!

~~~~~~~~~~~~~~~~~~~~~~

Handle (Tsuka) replacement

We recommend that customers to give an eyeball inspection of the wood portion (the wooden 'core' or 'foundation') of older handles for cracks and/or other damage, especially in the area of the Mekugi-ana (peg hole) where many swords display damage. Most WW-2 handles are at least 70 years old and in many cases, have not been well cared for. Wood deteriorates and if damage is obvious, safety becomes an issue and handle replacement is often recommended.

Be it a NATIONAL TREASURE or the handle of your favorite brush cutter, if it needs help, we can do it.
Our service costs are as follows:

Handle wrapping charge: Only $250 ( your choice of cord included in the price)

'International' return postage is $35 & domestic is $10

+++++++++++++++++++++++++++++++++++

Our handle wrapping and sword restoration service is available to owners of ww-2 military Swords, old Japanese Swords, Chinese made copy Japanese Swords and domestically produced Japanese style replica Swords... just about anything but the $25 display swords.

Remember, If it's not 'Made in Japan', it's not a genuine, real honest to goodness Japanese sword.

Most of 'Japanese Swords' displayed on EBAY that are in the under $500 price range are Chinese copies and some are nicely decorated to make them appear to be old and perhaps valuable in the eyes of the novice. The Chinese are super talented and have been making ww-2 swords that look really close to genuine Japanese swords, many with prices that range from $250 to whatever they think they can get.... one recently reported to be 'selling' for $3800 (three thousand eight hundred Dollars), obviously aimed at those who think that if the price is high, it must be a good sword. So, BEWARE... and in addition, there are more than a few 'locals' plus a few Australians and Europeans who also must have purchased Chinese swords thinking they were genuine and are trying to dump them at gun shows, flea markets, EBAY and elsewhere saying that they are Grandpa's 'take home' sword from Japan'. Again, be aware...and last but not least, I recently heard another 'story' that some sword sellers on EBAY are telling people that their blades were made in Japan . . and then sent to China to have handles & scabbards added....which is just another bit of creative storytelling. Be careful of what you buy. Don't complain and expect sympathy... you have been warned!

~~~~~~~~~~~~~~~~~~~~~~~
Mailing Your Handle (Tsuka)

It is recommended that you use the U.S. Postal Service to mail your handles or swords and to make sure to send them "INSURED MAIL". Unlike UPS, FED-EX or DHL, our Postman will not leave your property on our shop address without a signature. Special shipping instructions are available for mailing blades that are not in regular mounts or Shirasaya. When packaging for shipment, because they are a real mess to deal with, please do not use plastic 'peanuts'.

____________________________________________________________________

If you are unable to remove the handle from the sword, it is best to send the entire sword but return postage/insurance charges must be added. Please, do not send your sword bag.

____________________________________________________________________________________

We try to maintain normal 'turn around time' for Tsuka (handle repair) to 3 and 4 weeks. Please do not send swords or handles without first calling: (503) 282-4567 or sending an e-mail to confirm an appointment and to receive additional shipping instructions if needed.

++++++++++++++++++++++++++++++++++++++++++++++++++++++++++++++++++++
Wrapping cord (Tsuka-ito) samples (if necessary) are available for $15 (postage included). The sample pack consists of short strips of all materials and all available colors.

~~~~~~~~~~~~~~~~~~~~~~~~~~~~~~~~~~~~~~

While it is not recommended that anyone who is untrained and does not possess the proper tools, we are occasionally contacted by those who jump at the chance (the challenge) of doing the cord wrapping themselves. To satisfy the needs, all cord is priced at $4 per foot and because our SILK, LEATHER, Suede and TSUNAMI are totally 100% 'NON-STRETCH', all are provided with the assurance that the cord { if properly wrapped & tied off } will not loosen after use.

The QUESTION: "HOW MUCH CORD WILL I NEED to wrap my handle ?"

The ANSWER: Using this this simple FORMULA, the answer is easy: Measure the 'inch length' of your handle and convert the 'inches' to 'feet' and add 4 more feet of cord. In other words, an 8 inch handle will need 12 feet of cord and a 9 inch handle will need 13 feet, etc.

'Handle-wrapping Prices' (click-it)


~~~~~~~~~~~~~~~~~~~~~

'Stingray skin'

We are the major supplier of SAMEGAWA (Stingray skin) to those of that are involved in sword handle {Tsuka} restoration. Please be assured that only high grade and reasonably priced skins are used in the construction of newly made handles. We recommend its replacement if the existing skin shows signs of wear (small cracks, separations or missing pieces),

IF you prefer to restore your own handle, Stingray skin is available and custom sizes can be made available to fit your individual needs. The skin pieces (natural rawhide, 4 inches wide) are priced at $5 per running inch and for an 9 inch handle, the cost is only $45
IF you are already aware of how to get the skin to conform to the shape of the handle, Great ! (if not, ask! ) The next step (if you want black colored skin) is for you to apply black lacquer to the skin. Use a 'Spray can' or even enamel applied with an artist brush. That's how it's done, not a mystery...Simple and easy !

Chemically 'Tanned' skins are available from other sources but because the rough nodes were ground off, the skin is smooth and not functional enough to be used on Japanese sword handles.

The Japanese used the natural rough Stingray skin under the cord to prevent sliding and loosening. Additionally, the skin is also directional in that it is rougher when 'petted' (rubbed) in one direction and less so the other direction. Therefore, care should be taken to insure that the skin is oriented properly so that it is rougher when rubbed in the direction toward the end of the handle.

~~~~~~~~~~~~~~~~~~~
Call for details (503)-282-4567
or - E-mail Us
-or- write to:
FRED LOHMAN - 3405 N.E. Broadway - Portland, OR 97232 - 1818
---
Site Map