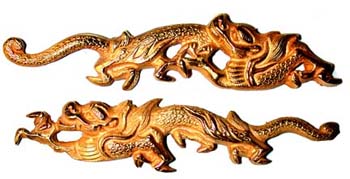 Perhaps the artist who carved the original Menuki was inspired by the Art Nouveau movement during the late
1800's as this Menuki set is non-traditionally designed. Made for a Katana, (as above) -or- blackened Silver .75mm / 3 "
---
Call for details: 503-282-4567
-or- write to:
FRED LOHMAN - 3405 N.E. Broadway -
Portland, OR 97232-1818 U.S.A.
---