---
---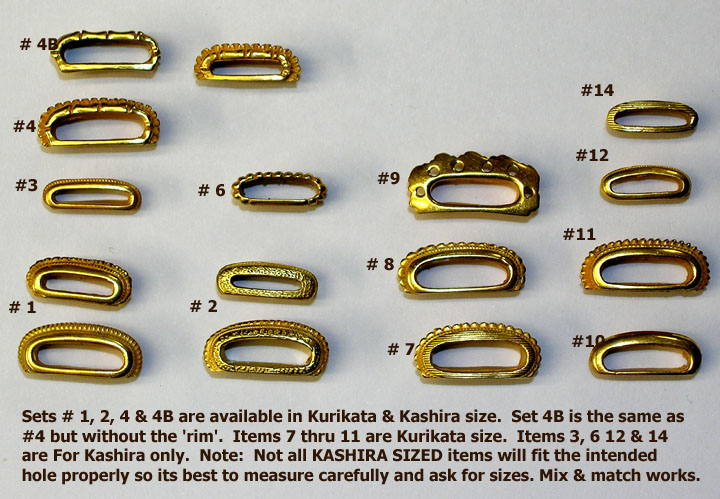 All of our Shitodome are copies (solid silver) of antique Japanese models and are available either 24K Gold Plated, Polished Silver or Black in color.

We offer a limited number of designs (displayed above) in both the Kurikata size as well as the smaller size for the Kashira.

Style # 1 (above) is the most common style and are found on the majority of old swords. Style # 1 is available in both the smaller and the larger size.

The choice of a Kashira is important as those with a decorated edge similar to (above #'s 1,2,7,8,11,14, etc) are not recommended because the decorated edge of the Shitodome will stick out slightly and snag things. Naturally, if the outer surface that the Shitodome butts up against is larger (as in Horn part # 15 or F/K Steel Kashira set # 8), the decorated edge would not be a problem.

As a rule, Shitodomé are generally found on better quality swords. Because Shitodomé are designed to fit into a small opening, installing them must be done carefully.

Shitodome are NOT recommended for modern made swords because today's Sageo are much thicker with more bulk and are often impossible to fit into a Shitodome.
---
Call for details: 503-282-4567
-or- write to:
FRED LOHMAN - 3405 N.E. Broadway -
Portland, OR 97232-1818 U.S.A.
---