---
---
SEVEN fantastic Hon-dachi sets.
Some of them are available in antique Silver, others in Bronze and some in blackened Steel.

Set # 1:(above) Darkened Silver, sized for Katana or Wakizashi
The Fuchi is 38mm, Koiguchi is 40mm. Quality parts.

Set # 2: Available In darkened Silver, antique Silver (as displayed). This set will fit either
Katana or Wakizashi. Same dimensions as set # 1.
+++++++++++++++++++++++++++++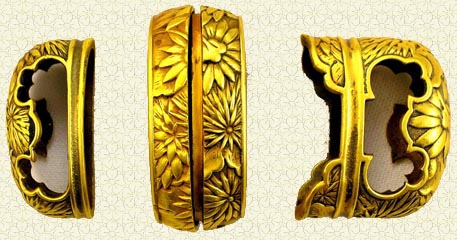 Set # 3... Aikuchi (no Tsuba required) 4 piece set, Gold plated Bronze or antique Silver. This very
high quality Aikuchi set has been added to this page to give it the additional exposure it deserves.
++++++++++\+++++

Set # 4 Black colored Steel only ..sized for very slender blade
++++++++++++++++++++++++++++++++++++++++++++++++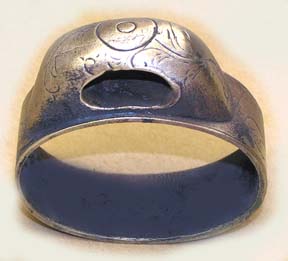 Set # 5 - Kurikata band (above)
Because no other supplier produces sets like these, there are no legitimate 'comparables'. However I did see a set advertised on a site for $7,000 by some clueless idiot. Above set available in semi-polished Bronze or blackened Bronze.
The above set is extra large as it originally housed a 37 inch blade. Inside measurements (from the Ha to the Mune) from the left (Kojiri) to the right (Kashira) are as follows: 39mm, 40m, 41mm, 45mm for the Kurikata band (not shown), Koiguchi is 47mm, 44mm, and the Kashira is 36mm. Similar sized sets are available on line at higher prices often as much as $5,000
++++++++++++++++++++++++++++++++++++++++++++++++

Set # 6 Wakizashi size, antique Silver Bronze or 24K Gold plate.
++++++++++++++++++++++++++++++++++++++++++++++++

Set # 7
Five piece CROSS HAWKS FEATHERS
The above set is available in Black Steel or antique Silver. To complete the 5 piece SET are matching Menuki, Ashi (hangers) and a Steel Tsuba.
Inside measurements are as follows: Fuchi: 34 x 17mm / 1.35 x .67" - Kashira: 33-34mm x 16.5mm / 1.32 x .66 ", (Kojiri has identical measurements as the Kashira) Koiguchi: 38 x 21mm / 1.45 x 72" and (two sizes) 36 x 18mm Shibabiki: 37 x 19mm / 1.45 x .77" Ashi: 35 x 22mm / 1.55 x .85". We recently became aware of a similar appearing (modern made) sets being offered on the web as (his description) for $7,000 and are not even good quality copies.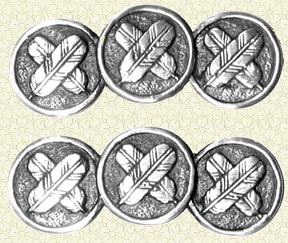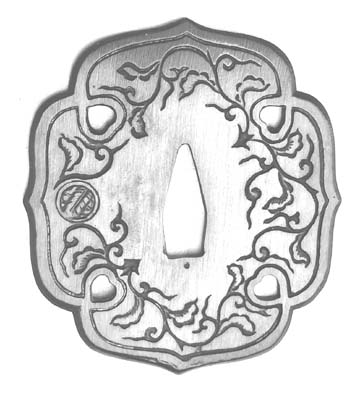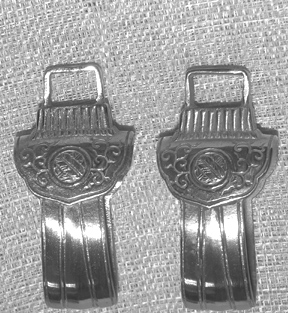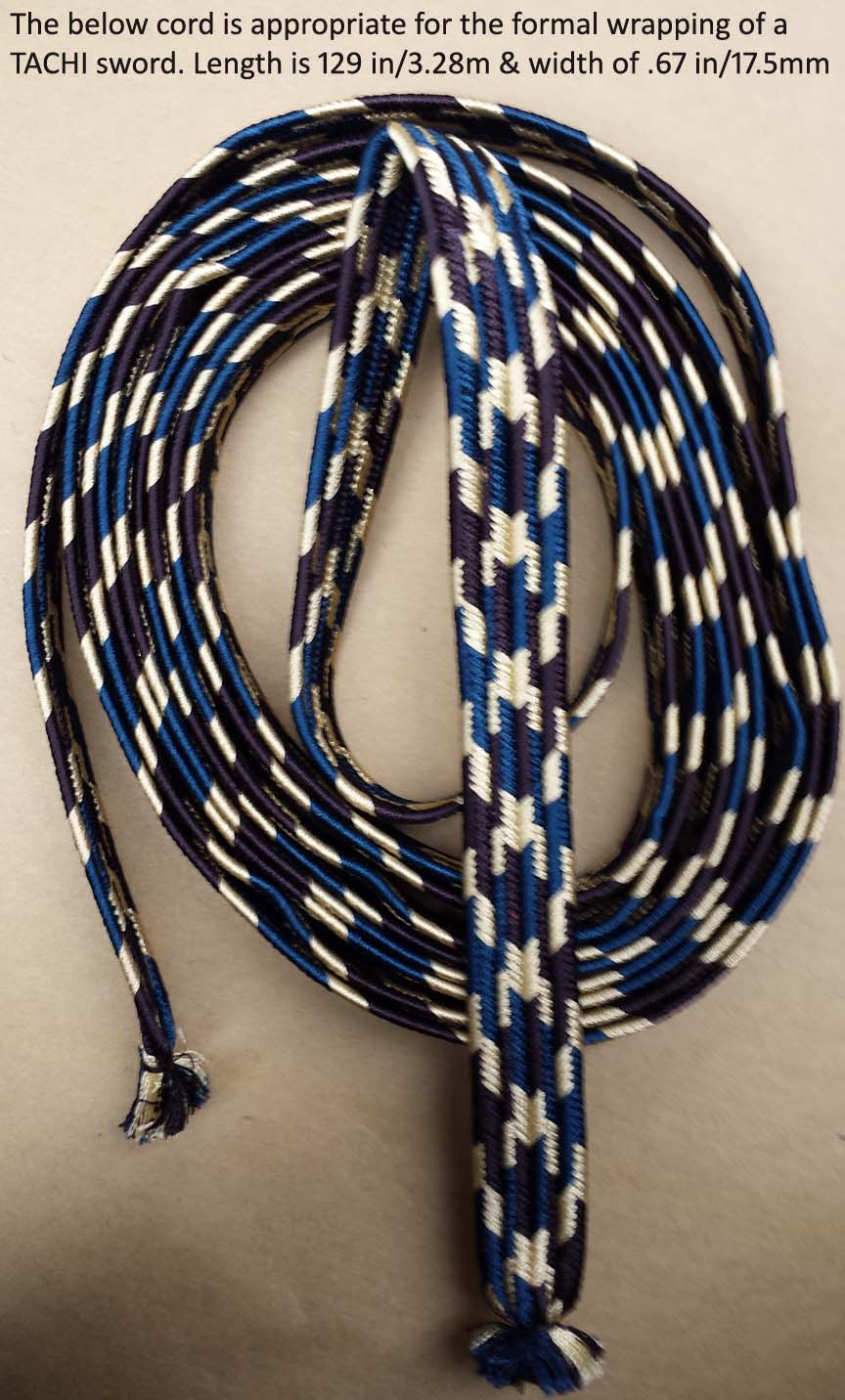 ---
Call for details: 503-282-4567
-or- write to:
FRED LOHMAN - 3405 N.E. Broadway -
Portland, OR 97232-1818 U.S.A.
---