---
---
Our MON a thin adhesive backed vinyl that will adhere to all smooth and clean surfaces. They will not stick to fabric. They can be lacquered over after application (on Saya as an example) for long and lasting beauty.

Most MON'S are 25 to 30mm (one inch to 1.25 inch) diameter. A very limited number of them were produced in a 3 inch diameter. The MON styles displayed below represent those that are currently available. Custom MON orders (Minimum of 50 pieces) are available.

1. Ougi 2. Daki Myoga 3. Kiri-mon .4 5. Maruni Chigai Takanoha 6. Meyui 1. 7. Meyu 2. 8. Hidari Mitsudomoe 9. Mistuba Aoi 10. Kutuwa 11. Hosi 14. Mokkou 1. 15. Kiku 16. Mokkou or Arima. 17. Kiku 18. Matsu 19. Katabami 20. Kasiwa 21. Fuji 22. 23. Maru ni Tachibana... Names contributed by Tammy !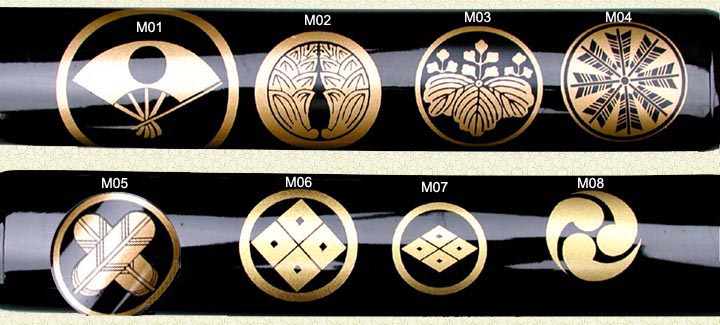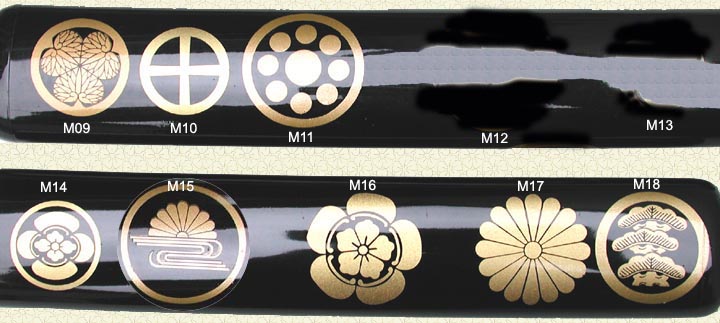 M19 negative

M19 positive
M # 20


The above MON colors appear different from each other due to camera settings, lighting, etc.
Not all MON are available all of the time.. and some have been permanently discontinued.
---
Call for details: 503-282-4567
-or- write to:
FRED LOHMAN - 3405 N.E. Broadway -
Portland, OR 97232-1818 U.S.A.
---