---
---
Aikuchi is the name of a Tanto made with a matching Fuchi and Koiguchi that fit together without a Tsuba.
It has matching Kashira and Kojiri and on special occasion, Tsunakuchi and Kurikata.
Made without a Tsuba, the Aikuchi was able to be worn close to the body.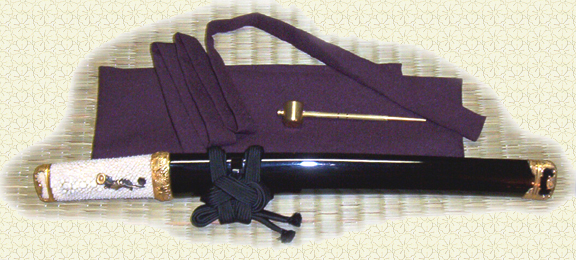 Four piece Floral design set, 24K Gold plated parts. A horn Kurikata and Tsunakuchi
are included at no additional cost for all Tanto sized blades. ( # 1.)

Four piece (black steel) Dragonfly set brown Cashew-lacquered Saya ( # 2.)

Four piece steel Dragonfly set with Horn Kurikata & Tsunakuchi. ( # 3.)

Tanto mounted with 6 piece Water Buffalo Horn set. ( # 4.)

Above Aikuchi fitted with solid Silver 6 piece set. #5.

The part above (shaped like a badge) covering the Kashira-ana is the
answer in situations where an un-wrapped Tsuka was preferred. ( #6. )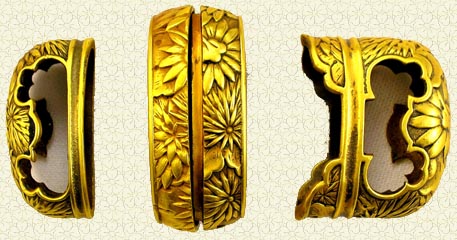 The above Floral Set (24K Gold plate) is displayed in Aikuchi # 1 above.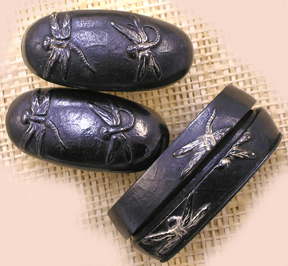 The four piece Dragonfly set is displayed above in # 2, 3 & 6.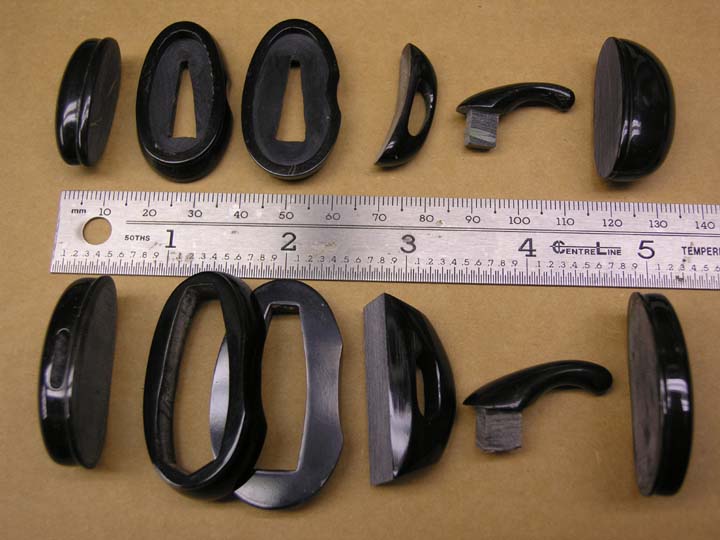 Two differently sized six piece Water Buffalo Horn sets.
The set on top (for a small Tanto) has a 'keyed alignment' fit for the Fuchi & Koiguchi to line up.
---
Call for details: 503-282-4567
-or- write to:
FRED LOHMAN - 3405 N.E. Broadway -
Portland, OR 97232-1818 U.S.A.
---